Caring, Personalized Therapy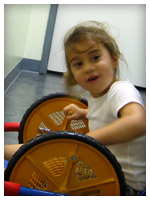 Awaken Listening™ is a combination of traditional therapies such as speech, physical and occupational therapies and alternate therapies such as Tomatis® Method, Neurofeedback, Cognitive Training, and Cellfield Interventions. ITS will evaluate your child and determine the best combination of traditional and alternate therapies to help your child achieve his or her potential. ITS strives to find the optimal combination of traditional and non-traditional therapies to best address each individual's needs.
We also offer any of the above therapies separately to offer individualized programs to fit every need and every budget.
Thanks for visiting! We look forward to serving you soon.
Our clients include Special Needs Individuals of all ages, diagnoses as well as students, singers and musicians, teachers, public speakers, actors and lawyers, senior citizens, artists, writers, composers, pregnant women, business executives and other professional, dancers and athletes of all ages, who wish to improve or enhance their performance.
Feel free to browse around this site. If you have comments or questions about our products or services, or simply need more information and want to contact us, click on the contact button on any page within this site or call us at (310) 838-1552.